Tokyo-London military pact raises tensions
Share - WeChat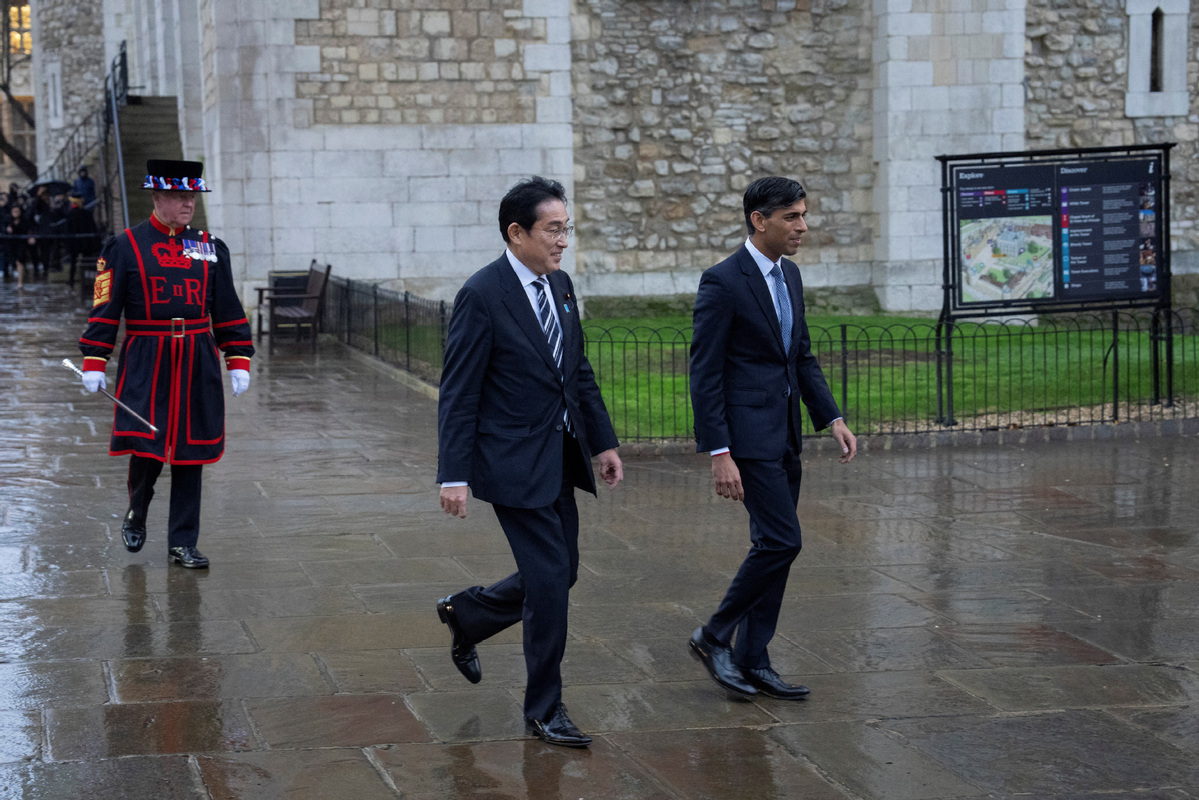 Experts say deal risks exacerbating mistrust between Asia-Pacific nations
The Tokyo-London defense agreement signed on Wednesday, seen as "a bilateral version of NATO", will stir tensions in the Asia-Pacific and undermine regional peace and development, experts have warned.
The Reciprocal Access Agreement signed by British Prime Minister Rishi Sunak and Japanese Prime Minister Fumio Kishida creates a legal basis for the deployment of British and Japanese troops on each other's territory for training and other operations.
Zhou Yongsheng, a professor at the Institute of International Relations, China Foreign Affairs University, said the pact would exacerbate regional tensions and undermine stability.
"The deal is no doubt a bilateral version of NATO," he said, explaining that, according to the agreement, the UK, a NATO member, can send troops to Japan. This is tantamount to Japan bringing more NATO defense forces into East Asia, further mixing NATO forces with Japan's military presence in the region, and further building the US-Japan military alliance, he said.
Foreign Ministry spokesman Wang Wenbin said on Wednesday that the pact should be "conducive to enhancing mutual understanding, trust and cooperation between countries".
"It should not target any imaginary enemies, still less replicate the obsolete mindset of bloc confrontation in the Asia-Pacific," he said. "The Asia-Pacific is an anchor for peace and development, not a wrestling ground for geopolitical competition."
The pact also allows Japan and the UK to hold joint military exercises. The deal had been in the works for years and was discussed when Kishida met with former prime minister Boris Johnson in London in May.
Zhou warned that the pact would set a bad example that could lead to a more chaotic Asia-Pacific, which over the past year has seen the spillover of the Russia-Ukraine conflict and Pyongyang's all-too-frequent missile launches.
"Is it possible that other NATO countries want to follow suit and deploy troops to Japan? That would be terrible," the professor said.
Also on Wednesday, Japan's defense and foreign ministers met with their US counterparts in Washington and vowed to strengthen their military alliance in the Asia-Pacific region.
The talks finalized a plan by the United States to send a so-called Marine Littoral Regiment, a more agile unit that can operate both sea and air defenses, to Japan's southern island of Okinawa. US Defense Secretary Lloyd Austin said the unit would be in place by 2025 after a reorganization of an existing artillery regiment.
Xu Liping, director of the Center for Southeast Asian Studies, Chinese Academy of Social Sciences, said that the US-Japan alliance has slid into military deterrence, which can only exacerbate the mistrust between countries in the region.
'Cold War mentality'
"It's clearly a Cold War mentality that provokes more confrontations in the region. It's irresponsible and runs counter to peace and development, the theme and trend of our time," Xu said.
Kishida is on a weeklong trip to G7 countries including France, Italy, Canada and the United States. He will meet US President Joe Biden on Friday.
Wednesday's agreements also follow Japan's announcement in December that it will increase its defense spending to 2 percent of GDP over five years, a benchmark adopted by NATO members in 2014. That would also make Japan's defense budget the third largest in the world.
"The country's move to revise defense regulations and increase its military spending is illegitimate in essence," Zhou said.
"In the past, Japan was more cautious and restrained in expanding its military capacity, but now it is using the Ukraine crisis and rising tensions on the Korean Peninsula as excuses to grow its influence on the region," said Zhou, adding that this desire to expand could push the region to the brink of fresh conflict.