Robots give diners a taste of the future
Share - WeChat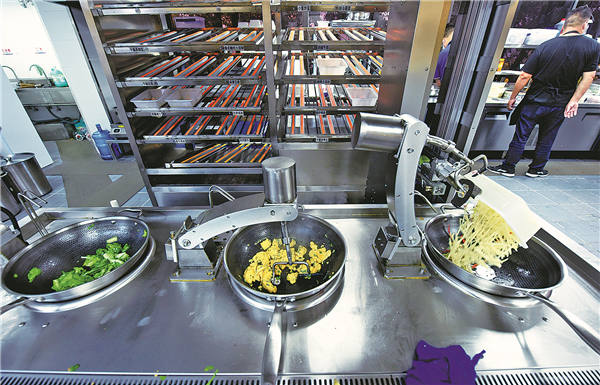 Increasing number of eateries put automation on the menu, report Wang Qian and Liu Kun in Wuhan.
As COVID-19 restrictions are lifted across the country, Li Xianghui knows it will be challenging for traditional restaurants to handle the increasing number of diners. But for his restaurants, things are different.
Owning four eateries in Wuhan, Hubei province, Li "employs" an array of cooking machines, which can operate tirelessly day and night. Packed in kits, all dishes are semifinished and can be served within minutes after they are put into the machines.
"Automation is the future for the catering industry. It can avoid pressure from labor costs in running a traditional restaurant and increase efficiency," Li says.
"There is a standardized process by the machines, which can guarantee consistency in the taste of each order," the 36-year-old man adds.
The cooking machine can make about 2,000 recipes, according to Li.
Once seated, diners scan a QR code and use an app to make their meal selection and pay. With the only waiter putting the semifinished food kit into the machine, the meal will be served in minutes.
Most Popular